Baird Named 2017 'UK Corporate Finance House of the Year'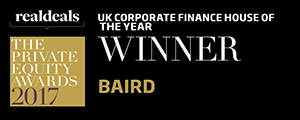 LONDON, 3 May 2017 – Baird, an employee-owned, international financial services firm, announced today that it was named the 2017 "UK Corporate Finance House of the Year"at the recent Private Equity Awards hosted by Real Deals at the Hilton Park Lane in London.
Now in their sixteenth year, the Private Equity Awards are among the oldest and most respected accolades awarded to those who work in the private equity industry and those who advise it. To earn this honour, a judging panel of GPs and LPs selected Baird as the firm that had demonstrated the most growth and success serving private equity firms across the UK during 2016.
"It is a great honour to be recognised for our work with private equity clients in the UK with this award," said David Silver, Head of European Investment Banking at Baird. "Our client relationships mean everything to us and it is very rewarding that our work for the private equity community has been recognised in this way."
In its nomination for the award, Baird highlighted several successes from its investment banking business in Europe in 2016, which included:
More than 30% of Baird's private equity clients engaged the firm twice or more globally in the past 24 months.
Among the European deals where Baird was engaged by a private equity client, 50% were new clients, also showing strong new business.
Baird's sponsor client base continues to grow geographically, with private equity firms from seven countries hiring Baird to advise them on an exit in the past year – up from six countries in 2015 and 3 countries in 2014.
Up to 70% of Baird's deals in the UK were cross-border.
More than 90% of Baird's deals in the UK (seller and/or buyer) and 80% of Baird's 100 M&A and debt advisory deals globally had private equity involvement.
About Baird
Baird is an employee-owned, international wealth management, capital markets, private equity and asset management firm with offices in the United States, Europe and Asia. Established in 1919, Baird has more than 3,400 associates serving the needs of individual, corporate, institutional and municipal clients. Baird has $171billion in client assets. Committed to being a great place to work, Baird ranked No. 4 on FORTUNE's 100 Best Companies to Work For in 2017 – its 14th consecutive year on the list. Baird is the marketing name of Baird Financial Group. Baird's principal operating subsidiaries are Robert W. Baird & Co. in the United States and Robert W. Baird Group Ltd. in Europe. Baird also has an operating subsidiary in Asia supporting Baird's investment banking and private equity operations. Robert W. Baird Limited and Baird Capital Partners Europe Limited are authorised and regulated by the Financial Conduct Authority. For more information, please visit Baird's Web site at www.rwbaird.com.
For additional information, please contact:
Baird Public Relations
+1 (414) 765-7250